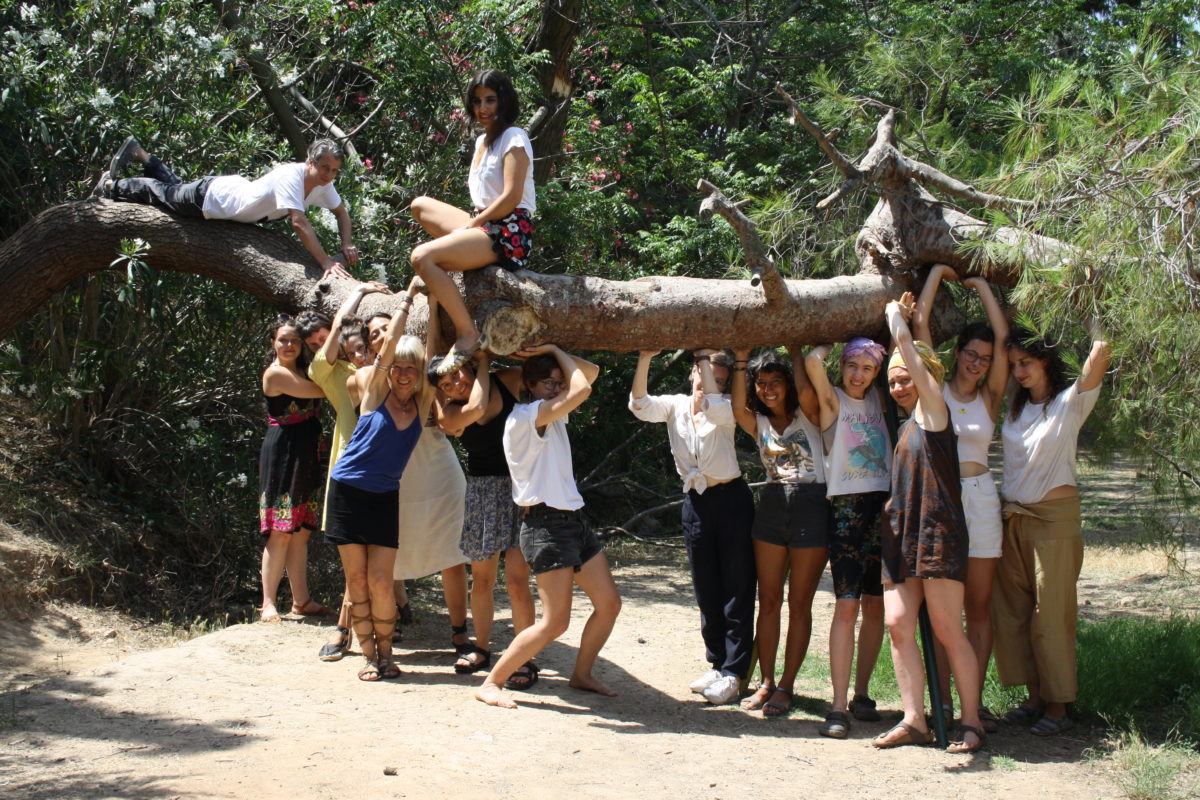 First stop of the Room to Bloom journey: Ecofeminism in the Akadimia Platonos "Jungle"
lead photo Clara Mosconi
On 25-30 June, a first cohort of the Room to Bloom artists came together for the first time in Athens and online to participate in our first workshop on Ecofeminism. Our series of ecofeminist workshops was developed as an educational experiment and took place in an artistic environment Transindigenous Assembly by Joulia Strauss (artist, initiator and organiser of Avtonomi Akadimia) and was curated by Katja Ehrhardt (director of AthenSYN, curator) and Joulia Strauss. Taking place in one of the most dynamic centers of our rapidly changing world, the ecofeminism workshop invited participants to collaborate in defining and enacting a new role of art. The participants had the chance to learn from and create together with experts on activist, transindigenous, ecofeminist, revolutionary, and therapeutic practices. The programme took place at two venues of the Avtonomi Akadimia: in the Akadimia Platonos "Jungle", and Villa Araucaria, an urban house with an inner yard.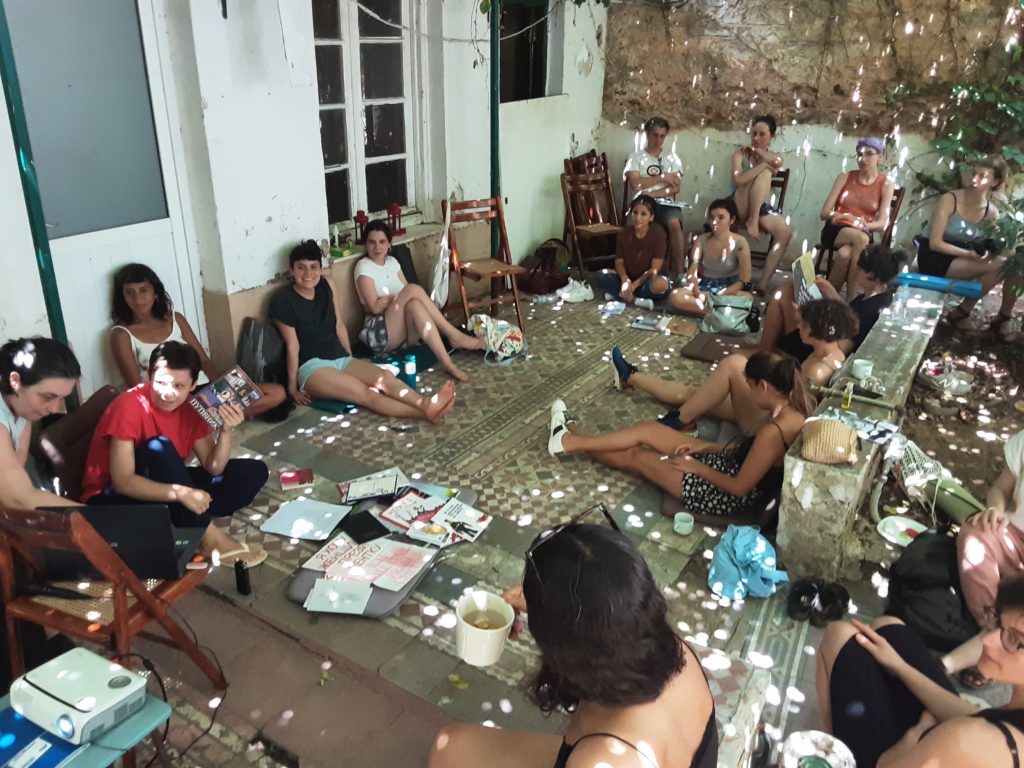 Our mentors are constitutive participants of the planetary transitioning from the patriarchal perception of nature from 'resource extraction for human society' to ecofeminist 'nature as sacred living organism, of which humans are only one part'.
Who was part of the programme? 
Marina Naprushkina is an artist (born in Minsk, BY). Her work engages with current political and social issues. Naprushkina is mostly working outside of institutional spaces, in cooperation with people, communities and activist organizations. Naprushkina is focusing on creating new formats, structures, and organizations based on self-organization overlap in theory and practice. In 2007 Naprushkina founded the Office for Anti Propaganda. Started as an archive on political propaganda the "Office" drifted to a political platform. In cooperation with activists and cultural makers, Office for Anti Propaganda lounges and supports political campaigns, social projects, publishes underground newspapers. In 2013, Naprushkina initiated the initiative "Neue Nachbarschaft/Moabit". Started as a single person initiative, it grew up to one of the largest initiatives in Berlin and built up a strong community of people with and without migrant- and refugee background.
During Marina's workshop, participants have created a collective painting which has immediately turned into a revolutionary banner presented in a meeting of young politicians who have gathered to protect the Akadimia Platonos "Jungle" from "developing" the rare public green environment into a commercial touristic site currently planned by the currently governing party Nea Demokratia.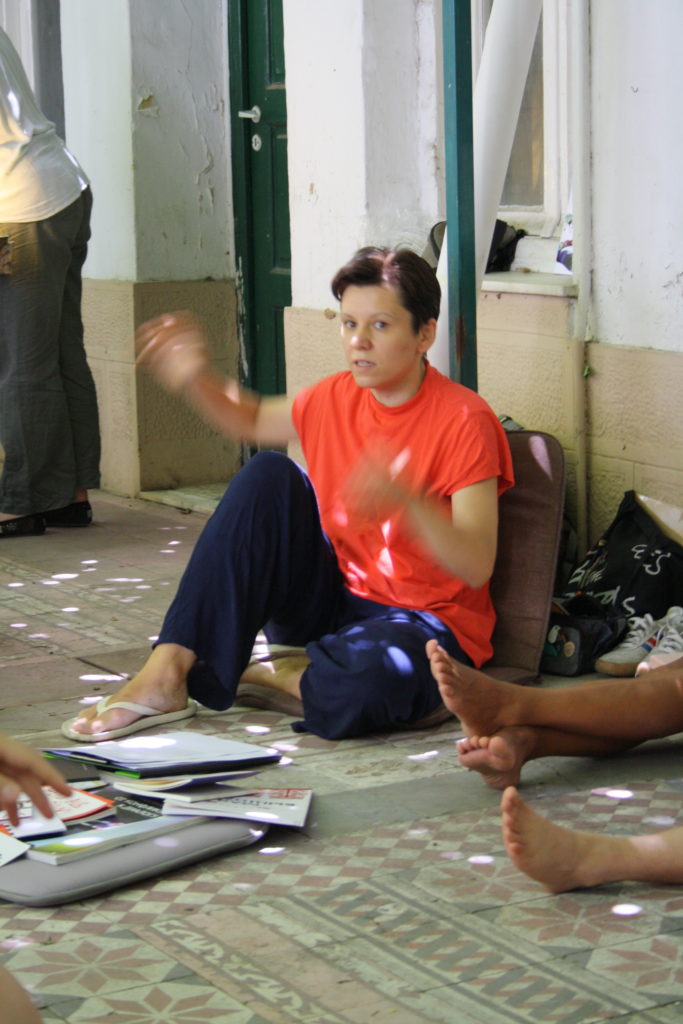 Marina Naprushkina, renowned artistic force against dictatorship in Belarus and initiator of the main support center for migrant women in Berlin.
On the photo: Parwana Amiri, a poet and visual artist, was able to leave her unfortunate place of residence, the Ritzona camp, to contribute to our collective painting to protect the "Jungle" and express her will to overcome borders.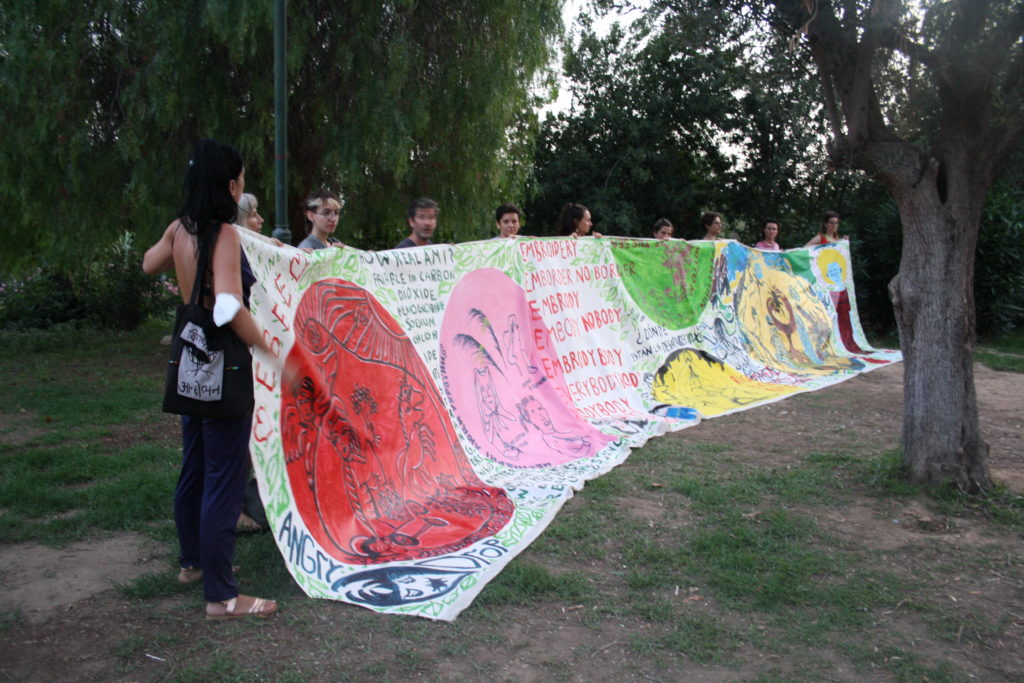 Solidarity gesture from Hungary, Colombia, Italy, France, Spain, Ukraine, Belarus, Albania, Germany, Ireland: we were very glad to have decided to host the physical meeting in Athens despite the pandemic impossibilities, and had zero Covid cases.
In this photo: we have brought the painting to the base of the European culture: the archeological site of Plato's School, to update the values of our "civilisation". 
Despite usual limitations of the online format, the participants have forged solidarity which overcomes the nation state as well as economic class segregation of the pandemic regulations…
Room to Bloom artists
We even communicated with other strong feminine forces through drawings, or, at least, learned about those forces, as in the case of remote Maestra Justina, a shaman from Contamana, Peru.  
Our mentor Mayoori Sangameshwar Hanagodimath (aka MUKTA Mayoori), who was not permitted to come from India as the country is not on the list of those Greece is open for: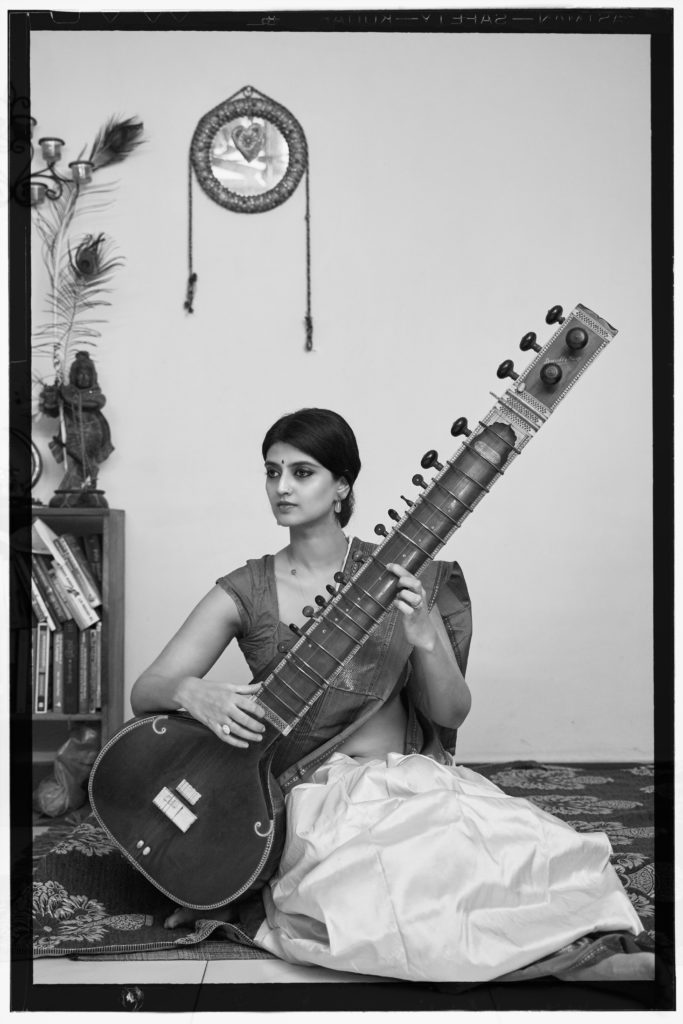 Mayoori is a Mantra expert and energy coach with more than 20 years of practical experience in Sanskrit, Mantras and Spiritual Practices. She left her career in advertising after a successful 14 years of tenure to follow her path in creating this modality which can empower people truly inside and out. She is a certified clinical Hypnotherapist who uses scientific modules like NLP with various spiritual practices founded in Dao and Reiki to deliver the unique experience of "mantra healing ". She has amalgamated various Indian Classical Basics, Energy Dance movements of Mandala, Qi Qong practices to tie in the Sound and Light in one practice called "Mantra Dance". In her education, she holds a Masters in Mass Communication (2004-2006) and Bachelors degree specialized in Sanskrit (2002-2004), Journalism and Women's Studies.
Mayoori's versatile online workshop can barely be captured visually because we were focusing on our inner world, often forgotten, which causes neurotic and psychotic suffering in our lives. It is this knowledge of self we seek to demarginalise in order to free ourselves from the centuries of patriarchal oppression and disconnect from our own beings. The unity of body and language has been preserved and kept in high spirits by Mayoori's expertise in Sanskrit. She has been sharing deep and concrete knowledge about the effects different letters of the alphabet have on parts of our body.   
Aleksandra Rhodius is part of the community "El Juego". The community formed 5 years ago in Kiva, a gathering of spiritual leaders from across the globe. El Juego now consists of more than 30 people living together in a beautiful land in the mountains of central Colombia and using the conflicts that emerge in their daily life as an opportunity to learn about the origins of individual and collective conflicts. El Juego community members are in a constant process of learning and unlearning how to live in connection with nature. They develop and practice healing techniques, which they call Doors, merging ancestral knowledge with a range of psychotherapeutic methods. Aleksandra Rhodius accompanies the following Doors: the Encounter, Constellation of silence, Instrumental breathing, Regression to the origin, Reconnection and the Dream. Aleksandra is a mother of 3 beautiful children, a passionate doula and midwife: she has learned how to accompany women in their birthing process with different indigenous communities and through her own birthing experiences. She fuses these traditions with the different techniques used at El Juego.
No matter if you are an artist, activist, politician, or environmentalist, we all have our personal traumas. One of the reasons the Ecofeminism workshop series have been able to offer space to continue creating a strong feminist community is the understanding that before entering a unity of a political solidarity, we have to treat our personal trauma. The old feminist axioms meet the new ones: personal is political, personal healing is the way to create a new political model of our society. El Juego community's practice helps a lot in understanding and practicing this.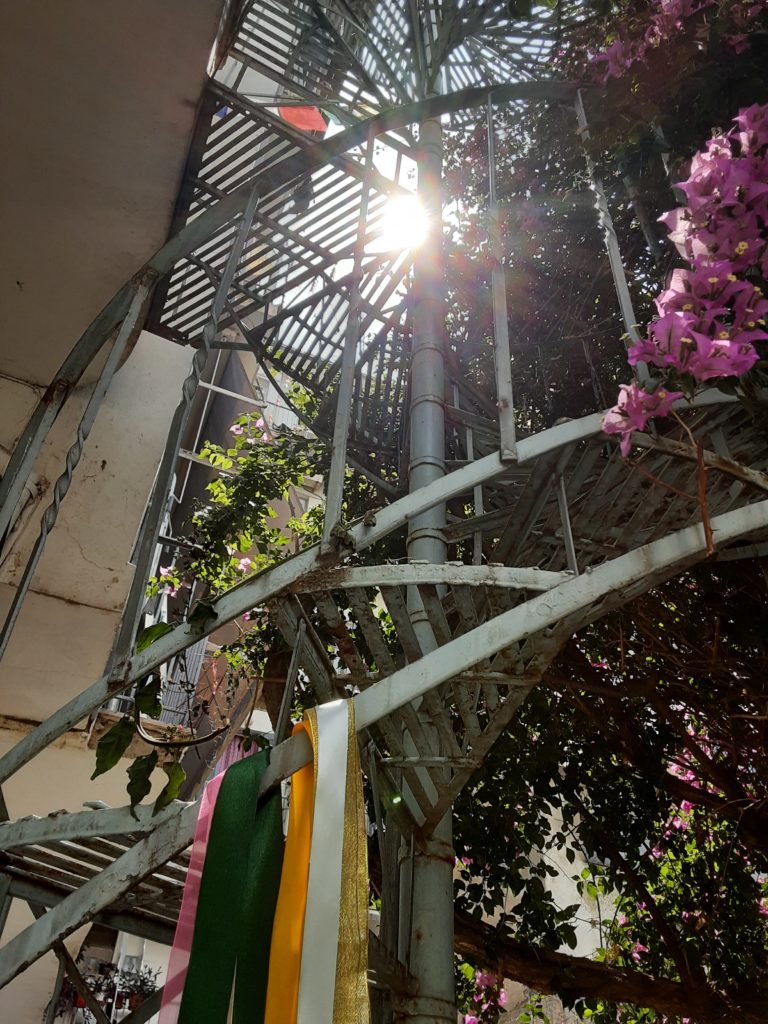 Vassiliea Stylianidou aka Franck-Lee Alli-Tis studied Literature and Linguistics at the University of Ioannina (GR) and Visual Arts (B.F.A., M.F.A.) at the University of the Arts Berlin. S*he works as a video and installation artist, using in her* works related artistic media such as text, sound/music and performance. Her* work deals with the limits inherent in systems of order and discipline such as architecture, body, power, family, gender and language. *She deals with the question "How can we shed light on and disarm the mechanisms with which language and words rule over vulnerable bodies, vulnerable environments, vulnerable landscapes?" Since 2018 s*he is co-curator of the feminist queer project Aphrodite* in Athens. S*he currently works on a book project about language, sexuality and gender. S*he is co-founder of the collective project WordMord. 
The binary western logic is based on constructed antinomies: nature vs. culture, body vs. mind, man vs. woman, digital vs. analogue, human vs. animal, animate vs. inorganic etc. Dominant language is the vehicle and the foundation of this dichotomizing/dichotomized logic. In Vassiliea's  workshop "What new words does this tree trunk dream of?" we discussed artistic and queer feminist methodologies which aim to destabilize and deconstruct the dominant language, and focused on language in plural and on their interweaving with rhythm, voice and breath. We collected, drew and recorded the sonic and visual traces of our technonatural environment and designed new letters and words while reading the surface of the earth, the sky, the water, the wind, the weather.
The highlight of the workshop was a performance by the participants in the Akadimia Platonos Jungle with the new words and sounds that were created. It generated strong bonding moments and a feeling of unity among the participants with nature and the environment where everyone was equal and valuable in our collective dance of creation.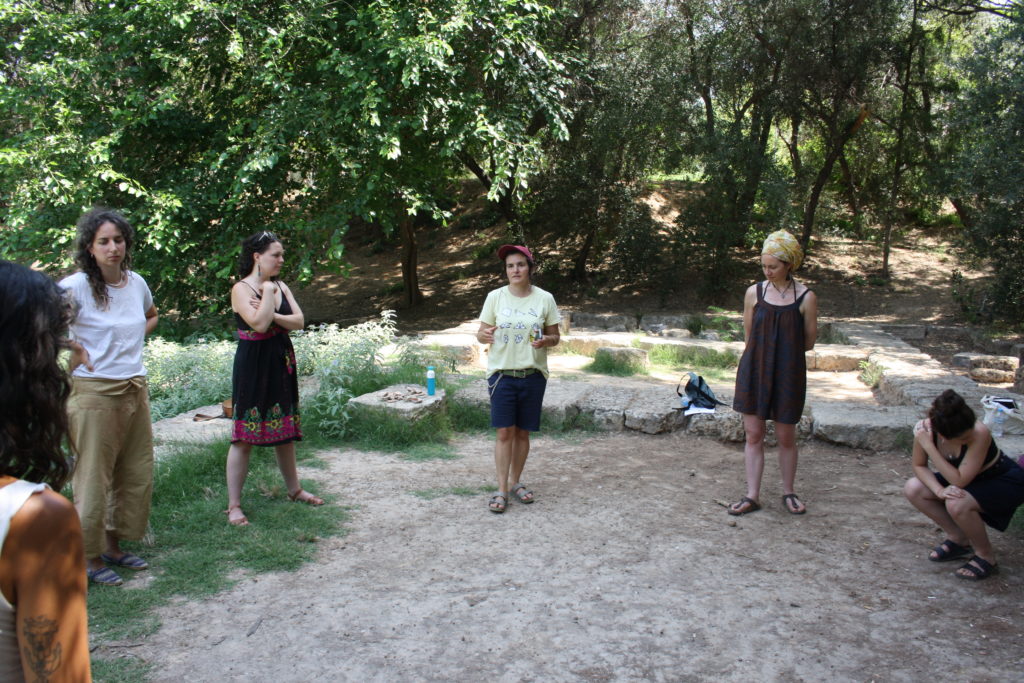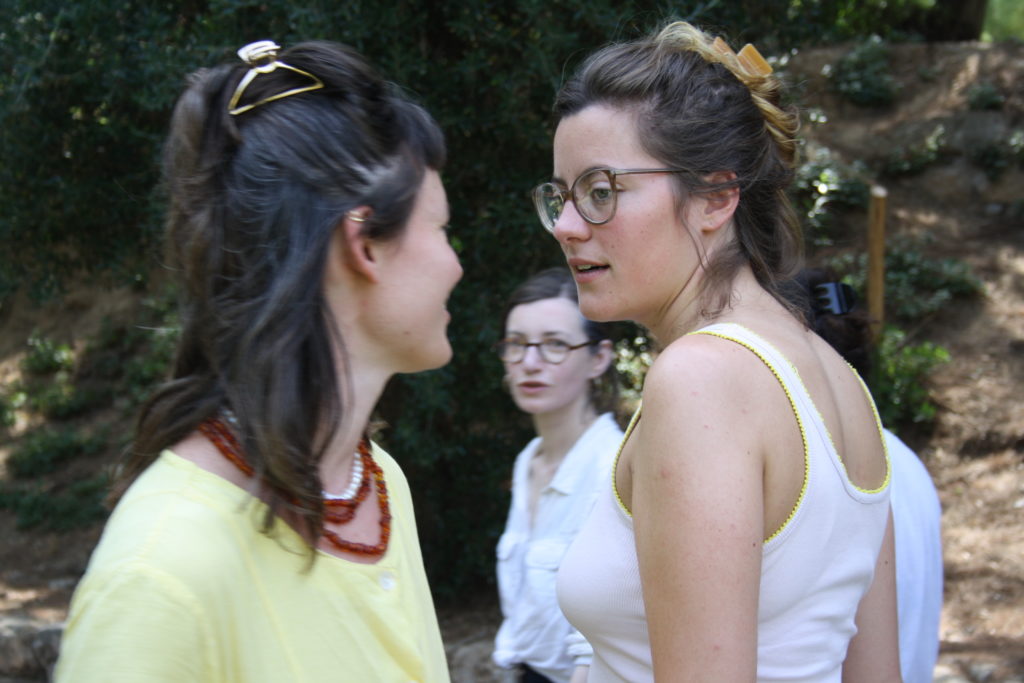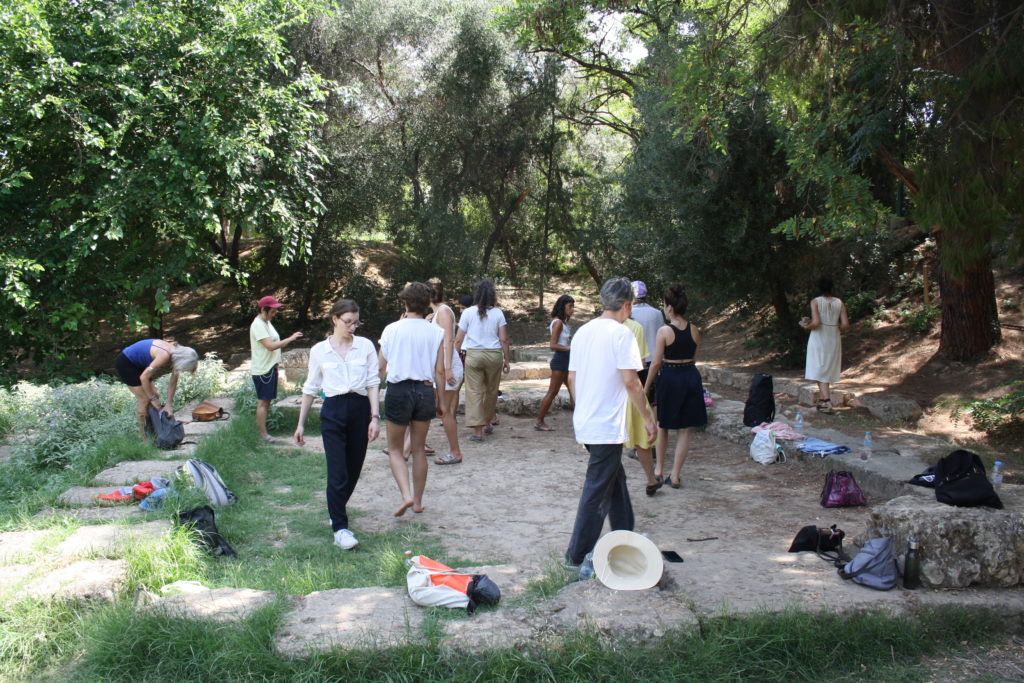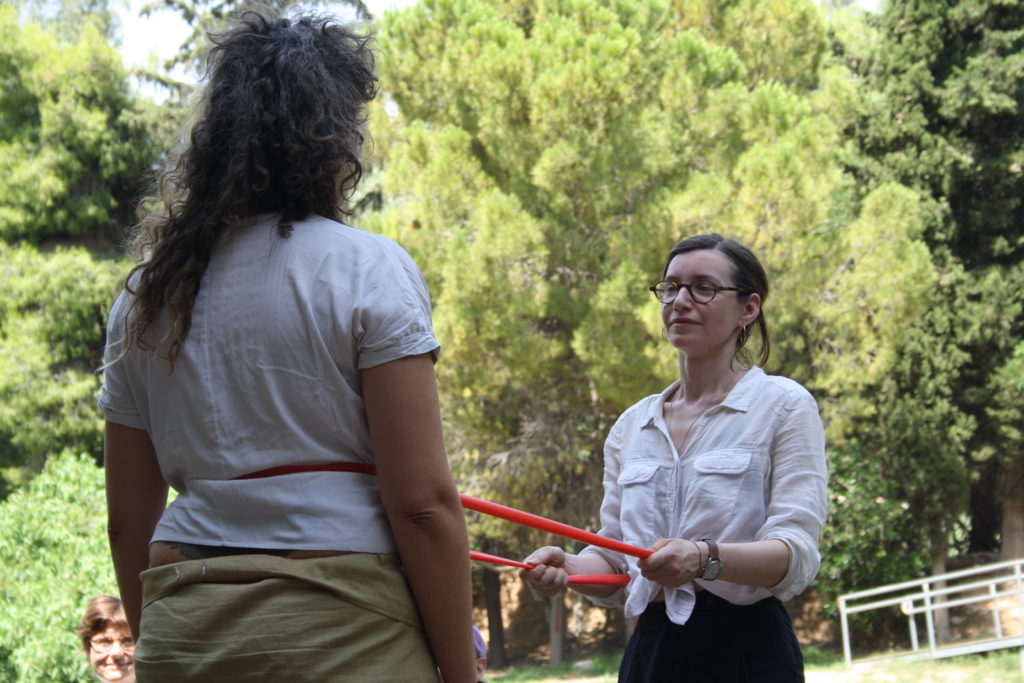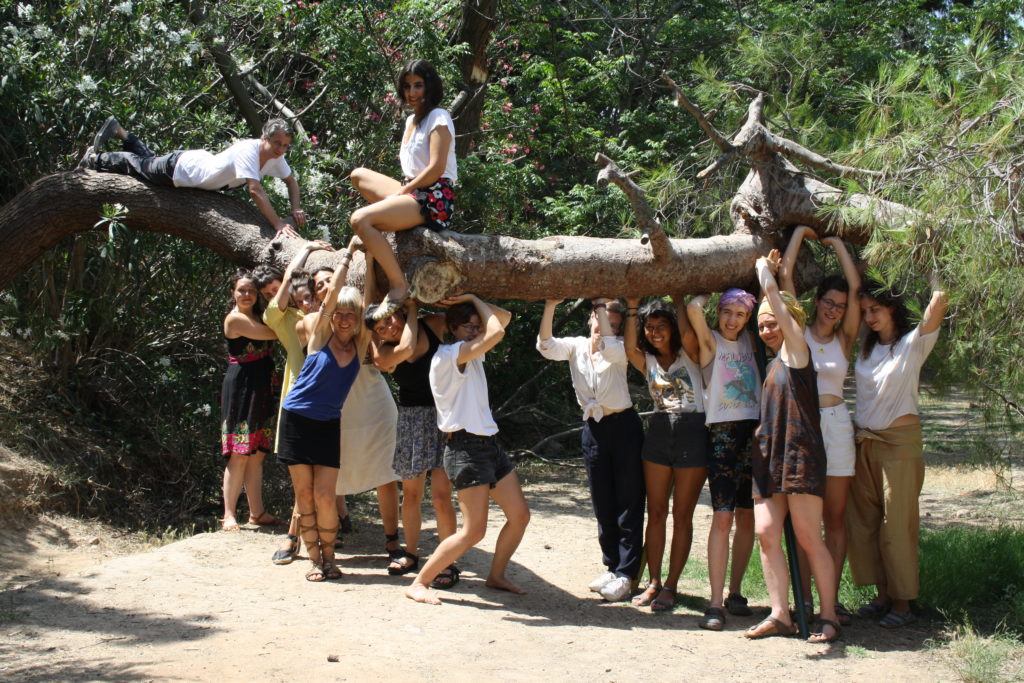 Katerina Katsifaraki studied painting at the Athens School of Fine Arts (1993-1998). In 2001 she completed her postgraduate studies (MFA) in Interdisciplinary Arts at the Dutch Art Institute (D.A.I) in the Netherlands, with a scholarship from the State Scholarship Foundation (IKY). Until 2006 she attended modern dance and performance classes with M. Mendez's team. She has participated in exhibitions, residencies and performances in Greece and abroad. She designed and implemented in situ installations in various venues, such as Museum Benaki/'NEMA' (2020), the Halandri Settlement, Athens (2019), Rencontres Internationales Al Maken d'Art Actuel, Tunisia (2016), Patmion Cultural Center, Patmos (2018), Libby Sacer Foundation, Athens (2014), El Estudio Ammeba, and many more. Katsifaraki's art revolves around the concept of perpetual motion. Ephemeral dwelling, roots and uprooting, the ceaseless moving from place to place, taking notice of the ostensibly unimportant and giving prominence to the fleeting are at the epicentre of her work. We often say that life "unravels" before our eyes. That memory is a "thread" with the potential to direct its course. That joy and peace must first "take root" in order to survive. Inherent in Katerina's work is a deep connection with nature and the cycle of life.
In her workshop, we created a natural loom on a tree, in which we wove a rug, from old textile remains and materials from nature, as well as plastic bags and other artificial elements, to embrace those as the status quo of our reality. In the ancient craft of weaving, we experienced constant flow, the organic as reality, as a concept, as a way of understanding life and its changes. The vital, the deeply-rooted, the internal that is inherent in nature, in man, or, better to say, in woman, in matter, the connection of thread to nature and life, by people and their creations. Thread symbolises time, and leaves its trace behind, each time, as it unwinds. This repetition of the production cycle becomes a dance/ritual that contains within itself both structure and nomadism as an inherent process of nature – the eternally transforming and cyclical.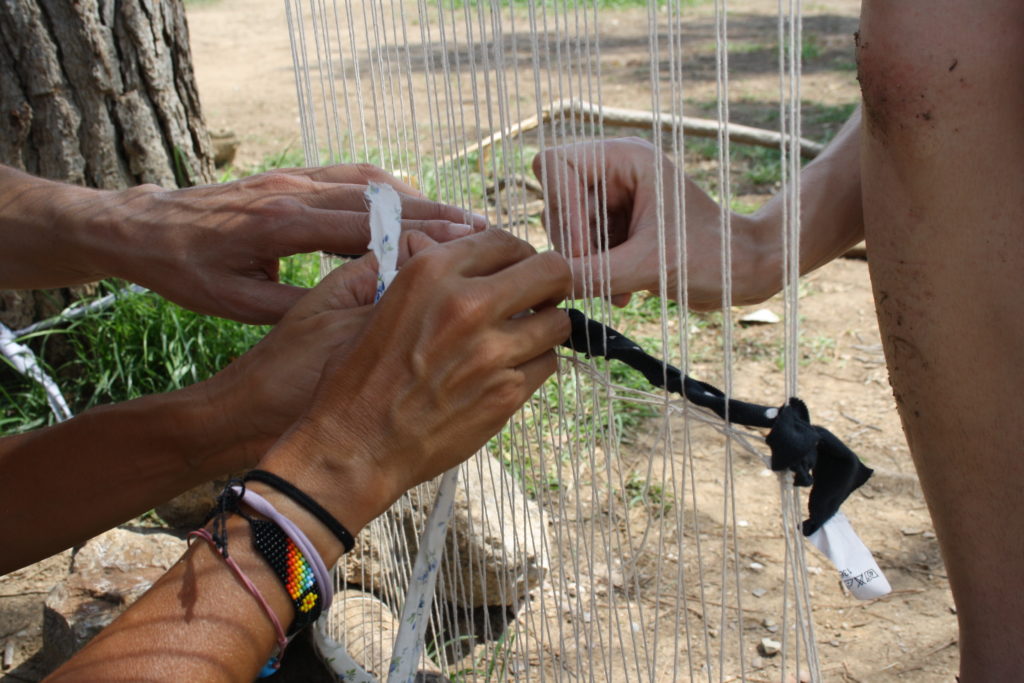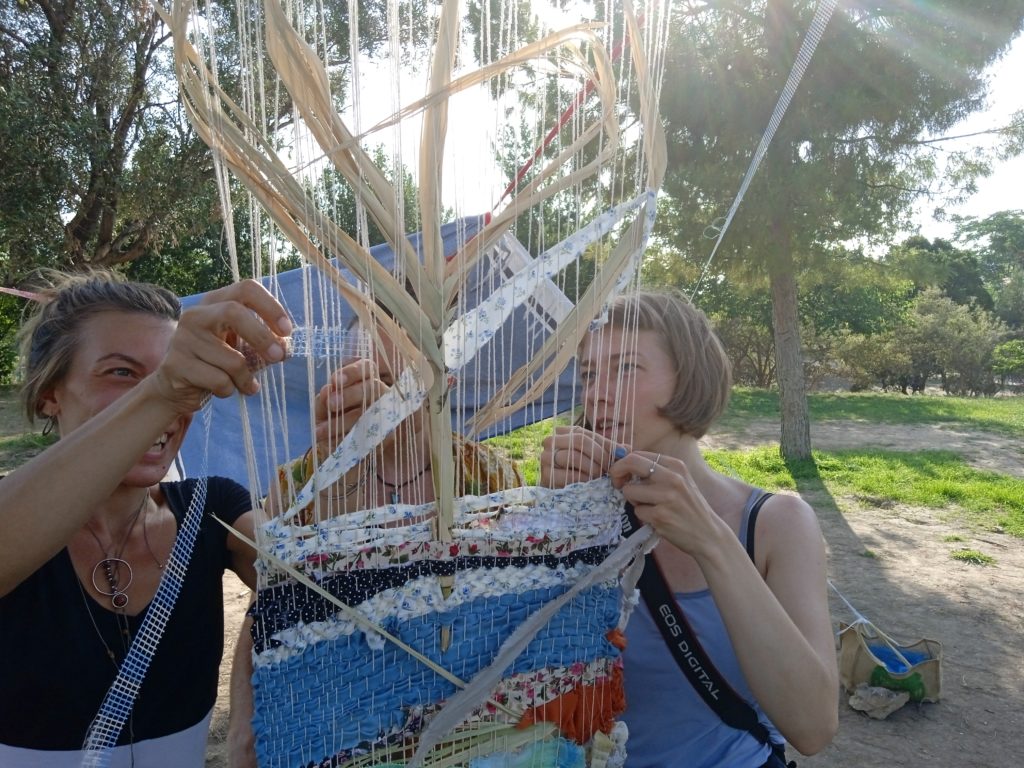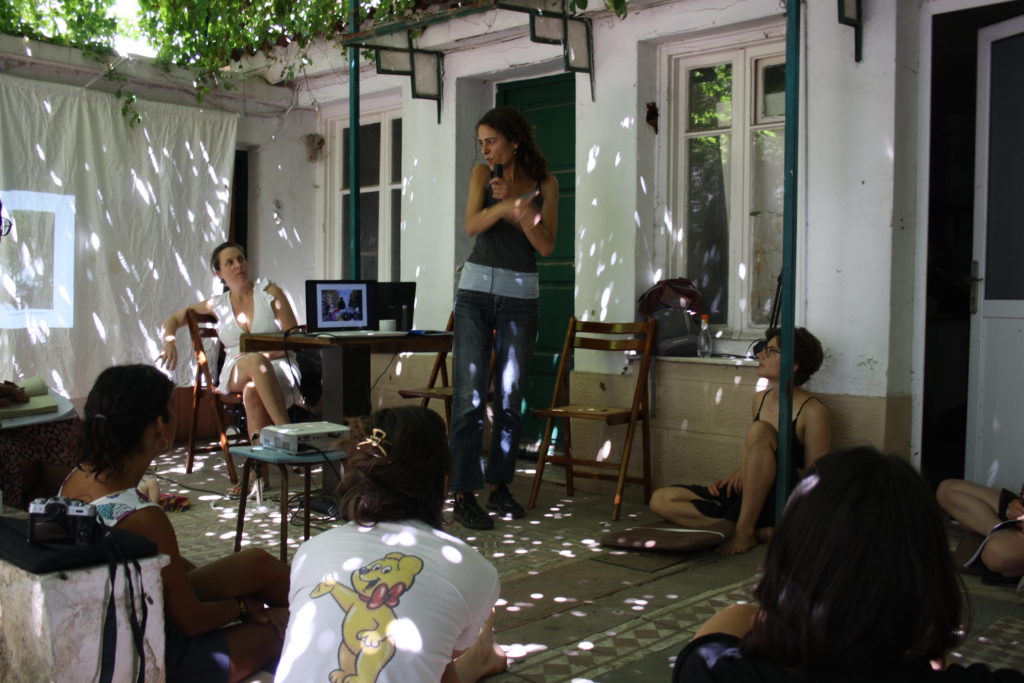 As part the sessions, we strived to overcome the loss of equilibrium caused by the onesidedness of Western epistemologies rooted in the discrimination of women and others on the receiving end of the extractivist aggression from the socio-political domain by reconnecting art, feminism, witch knowledge and ecological practices. Together, we worked on a sustainable communal art world based on an experience  of harmonious coexistence with the environment and the role of the feminine in the cycle of life. What can we learn about our future from communities which still, or again, live in an unmediated relation to their, now drastically changing, living conditions? 
On the European continent, the transindigenous concept of "good life" is enacted by the diverse movements in Southern Europe, where, due to austerity, many actors of social change have taken the responsibility for creating sustainable worlds with their own hands. So did the diverse inspiring movements in Athens: an ideal climate for our ecofeminist Room to Bloom Athens. During the open closing assembly of our workshop series, we had a chance to hear the presentation by Penny Travlou, Sonal Jain, Nadja Verena Marcin, Marc Müller, Joulia Strauss and our special guest and member of Room to Bloom team from Colombia/Sicily: Marcela Caldas (in the middle).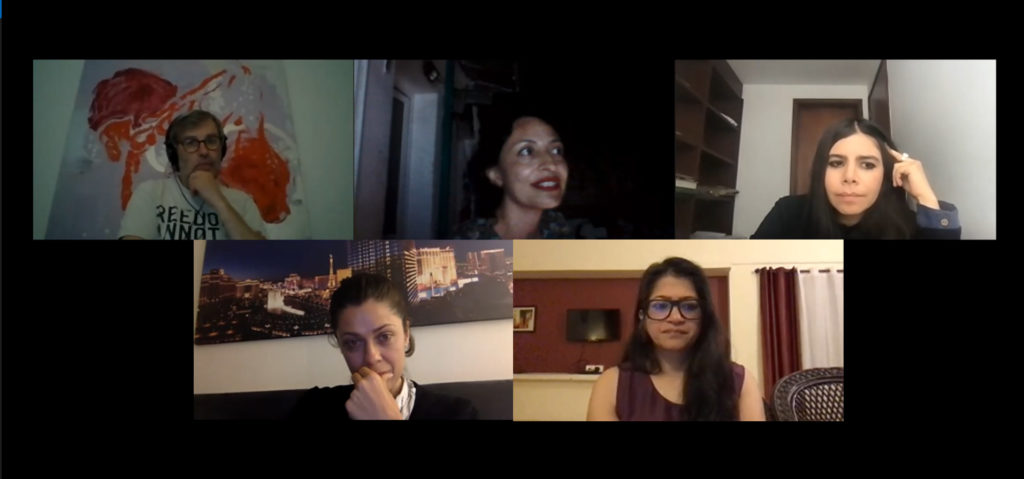 Sonal Jain, also our advisory board member from Assam, (on the right in the lower line), has given us a lecture on feminine India: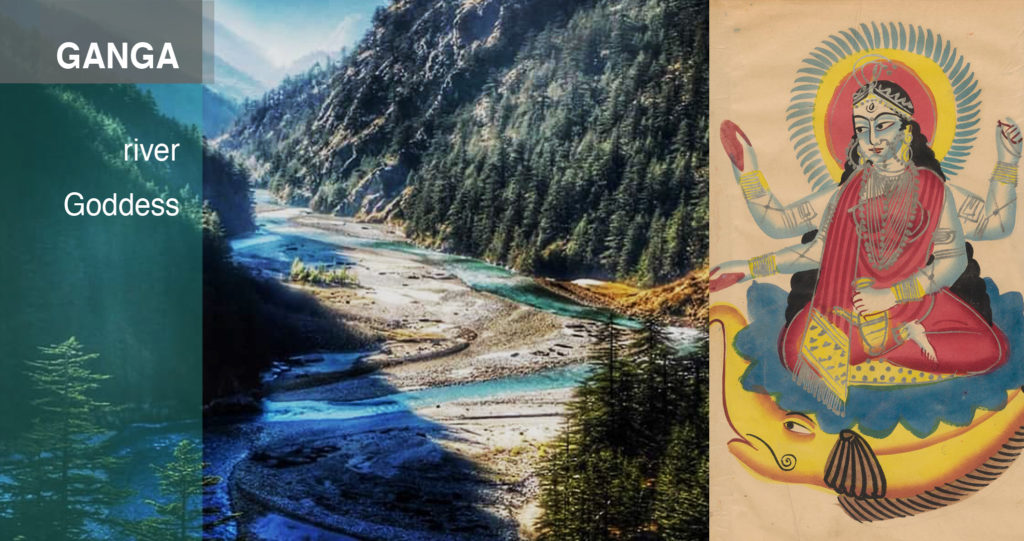 Image taken from the Sonal Jain's presentation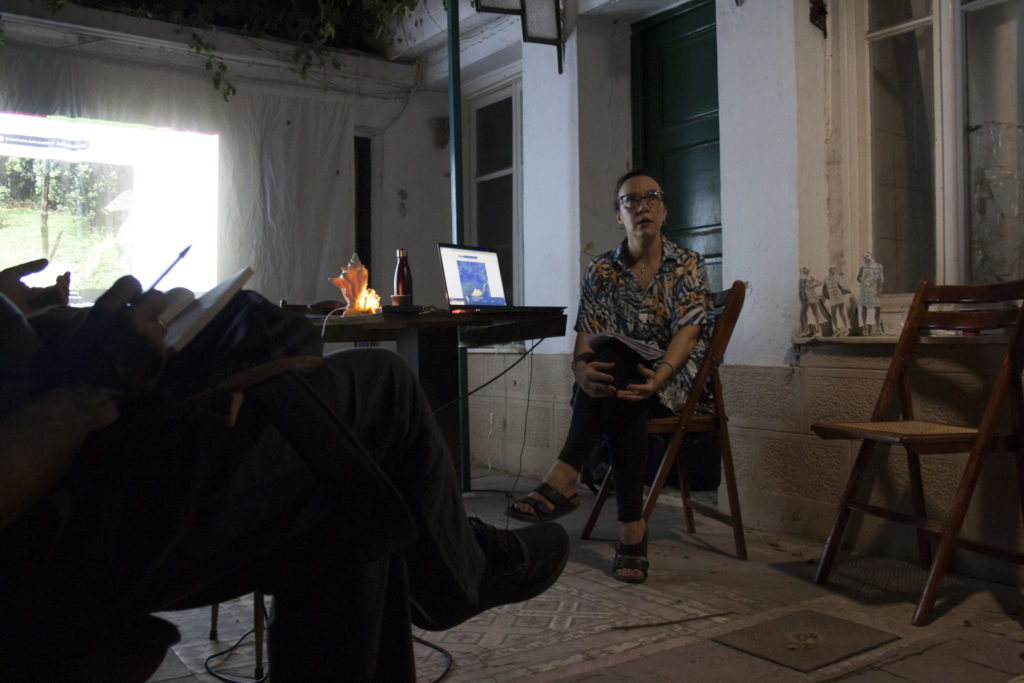 Penny Travlou (Feminist Autonomous Centre for Research, Athens) collaborates with indigenous women collectives in Colombia following and creating epistemologies of practicing "good living", buen vivir.
Nadja Verena Marcin has given an artist talk on her new project "SOPHYGRAY" on Anthropocene, AI, and Imaginatory Human Rights.
Joulia Strauss and Marc Müller have screened the Transindigenous Assembly video for the Athenian public, to which we were delighted to open up the specific kind of ecofeminism, developed during the Athenian workshops…
On the occasion of the screening, we honoured indigenous activists who protect Gaia on the front line and are being assasinated, in Colombia, Siberia, Australia, and many other places of witch hunt of the present day.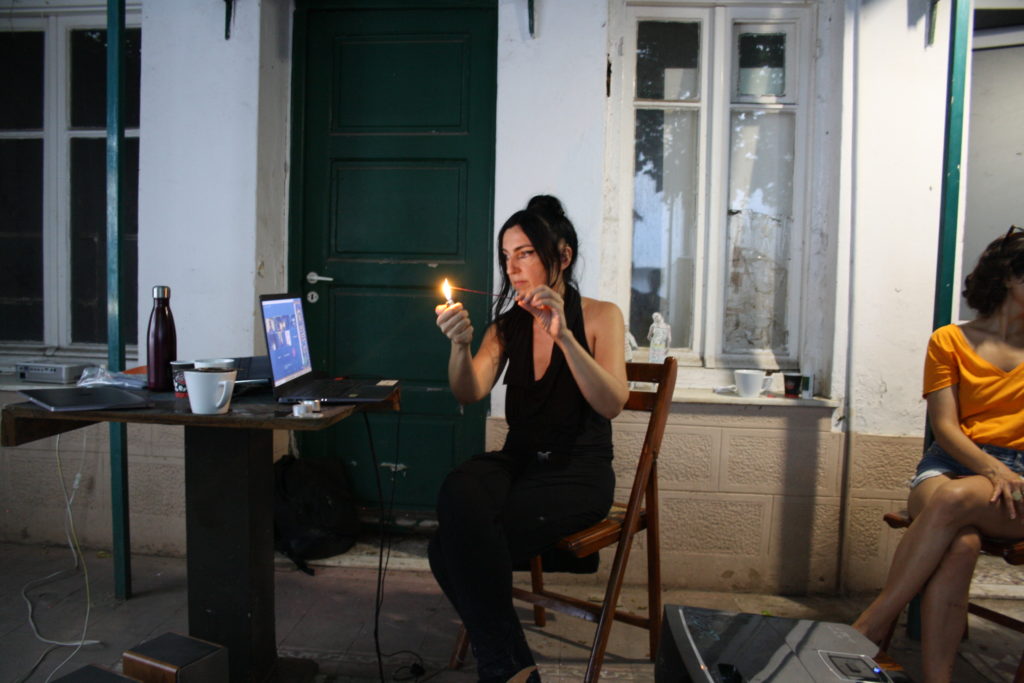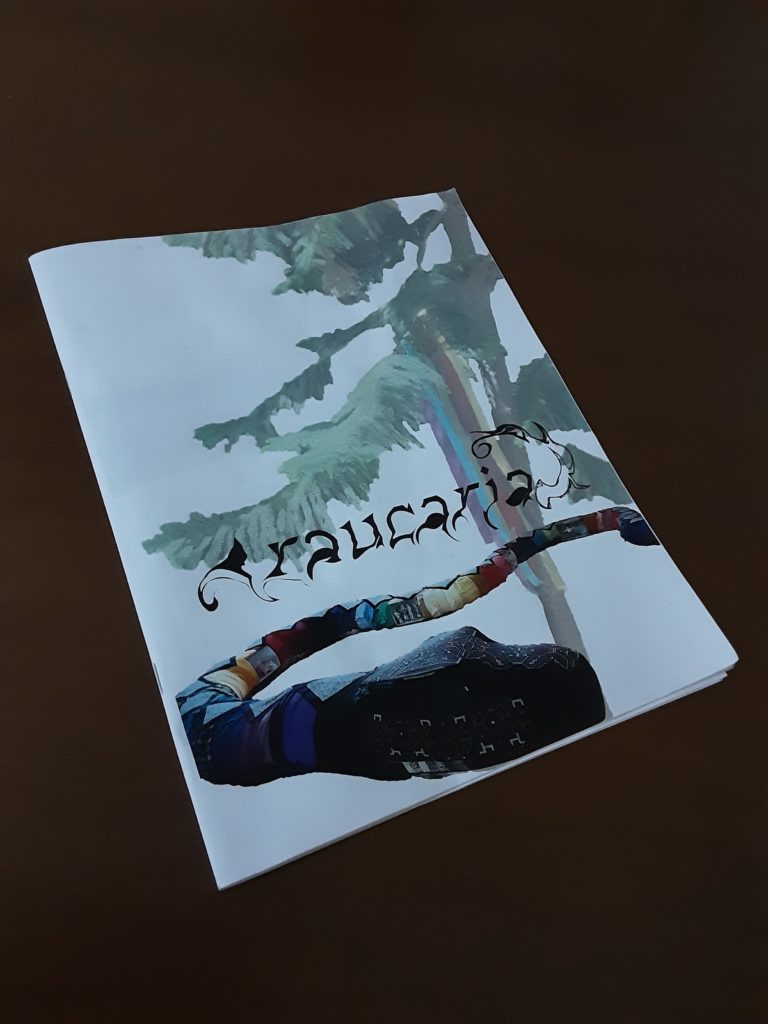 A special newspaper dedicated to the tree in the inner yard of the villa, Araucaria, was edited by Steven Corcoran, Clara Mosconi, and Joulia Strauss, with articles about the work of our teachers.
The participants have created a circle of sensible relations, we closed the assembly with a feeling of carrying new shamanic and political knowledge back to the communities we are already part of and having charged our reloveutionary cells with ecofeminist power.  
Some of us stayed in the villa, others are hosting their festivals in deep forests of Eastern Europe, or preparing artistic protest actions and demonstrations across Madre Tierra, Pacha Mama, Mlande Ava, Mother Earth. We look forward to the next stop!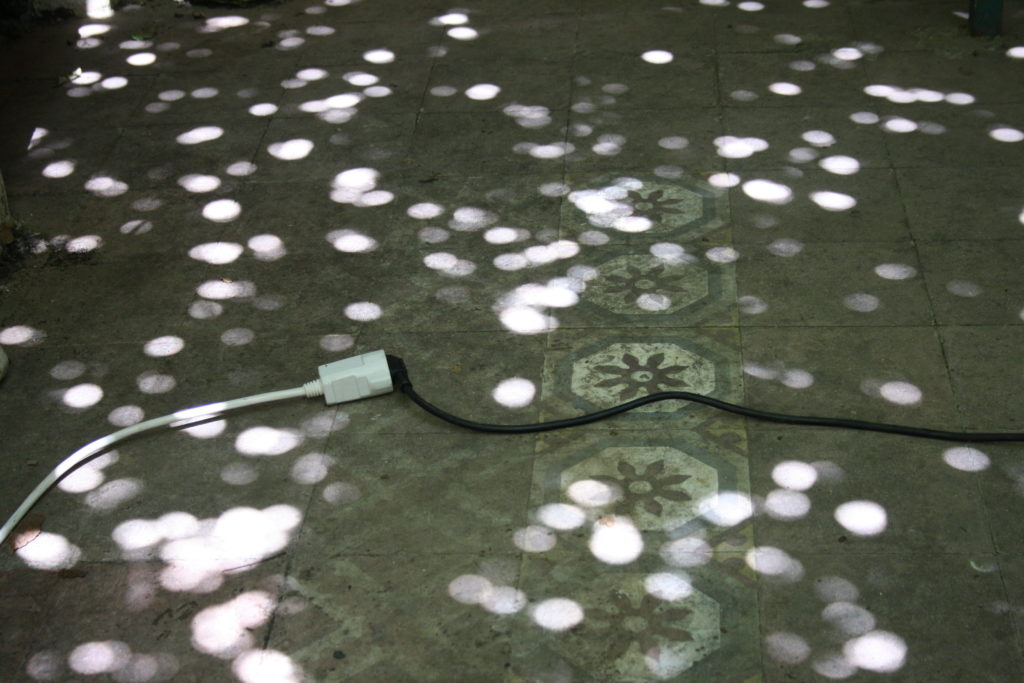 Photo Clara Mosconi